Bronze Medal Winner!

Taught by Life: Art and Stories
Roosevelt Lewis's raw, compelling stories and his powerful artwork celebrate African American existence in the southern United States, in an era not very distant from today—a testament to the power of art and human resilience.
The paintings, sculptures, and stories in this book bring to life the black people Lewis grew up with on the Cane River in Central Louisiana and their individual struggles to overcome racism and find a better place in life for themselves and their children.
Through his art and writing, Lewis encourages mothers to examine their authenticity toward their children, men to question their violence against women, and veterans to see a path to victory in life after warfare.
His ultimate message to those who seek redemption is to find a permanent place in their hearts for love and gratitude.
 Kudos to the author for his beautiful contribution to the continuing and enduring revelation of the African American journey and the formative role it has played in the American story and legacy.
Tawnya Pettiford-Wates, PhD
Virginia Commonwealth University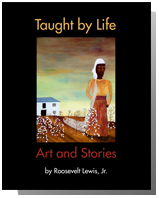 Perfect bound, soft cover
8 x 10, 128 pages,
48 color reproductions
ISBN 978-0-9647444-6-2
$24.95
Available June 2015
Questions?
info@courtstreetpress.com